Book Retriever is the easy way to get control of your classroom library!
NEW!

Clever Integration for Schools and Rosters

Clever enabled districts can now integrate seamlessly with Book Retriever. Teacher logins are simplified, class rosters are automatically imported, and more! Click here to learn more about Clever.
Intuitive and simple web-based interface
The new Book Retriever is a web-based application and will run on any device from a desktop computer (Mac or Windows) to tablets and smartphones! Since we're cloud based there is nothing to install and no need to back anything up! And Book Retriever is designed to be easy to set up and use. The responsive interface means it works great on any computer or device with a connection to the internet.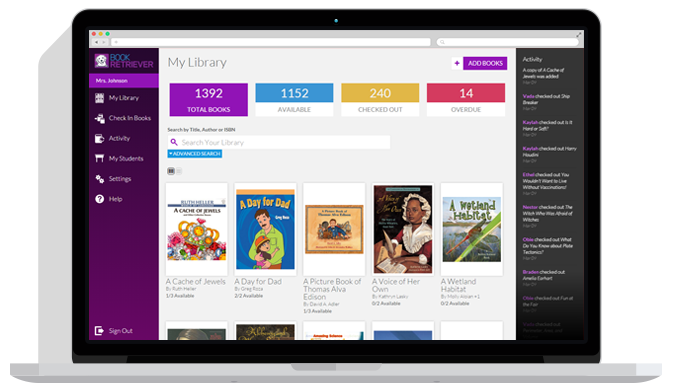 Robust & simple system for checking books in and out
Book Retriever makes it easy to check-in and check-out books. You can see exactly who has which books, how long and when they are due or overdue.
Free scanning app for iPhones and Android
Our scanning apps for iOS and Android devices make it easy to add books, and check them in and out.
Book asset management
The typical classroom library has hundreds of books, and keeping track of what you have and where they are can be challenging. Book Retriever makes it easy to keep track of every book in your classroom library. The My Library dashboard lets you view your books visually or in a table. Quickly see what books are available and what are checked out. It will even show you the number of copies that are available for each book.
Extensive leveling data
Book Retriever has an extensive leveled-book database, including Guided Reading Levels, Lexile, Accelerated Reader, Reading Counts, DRA and Reading Recovery. Book Retriever also has exclusive leveling data for many books, and that list is growing all the time.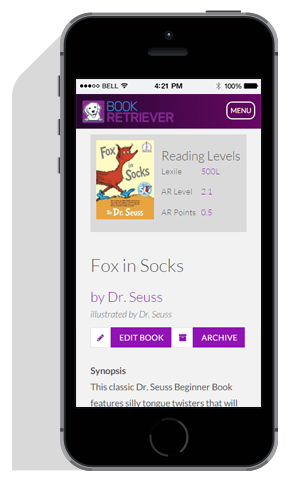 Data and leveling overrides
Sometimes book data can be missing or inaccurate, or you might think that a book level isn't quite right. Book Retriever allows you to edit your book data including title and subtitle, description, number of pages, editors and illustrators. You can even override the leveling data for any book. And you can reset that data back to the defaults with a click.
Extensive book search
Find the right book in your library for every student. Book Retriever makes it easy to filter your library by ISBN, title, author, illustrator and reading levels.
Students
Book Retriever has a Students view, which shows which books your students have checked out, and when their books are due or overdue. You can also see the historical data for each student. You can also check out a book directly from a student page.
Activity Log
The Activity Log displays all activity in your library. You can easily filter and sort by date range, book, and student.
Track overdue & missing books
The Activity Log shows which books are overdue and who checked them out. And books can be flagged as missing, which is great for end of the school year reconciliation.